Types Of Braces
About Braces
Braces are orthodontic appliances that realign your teeth gradually to fix tooth alignment. The purpose is to enhance the patient's bite, oral function, and smile. Dr. Jarvis offers metal braces, ceramic braces, and Damon® self-ligating braces to his patients in Boise, ID.
These orthodontic appliances have been used for decades, during which time they have undergone countless advances to ensure that they are both safe and effective. Braces work by applying moderate force over time to gradually move teeth. There are a few different types to choose from, so you can find something that works for you.
Find out which braces are ideal for you with the help of Jacob Jarvis Orthodontics. Schedule an appointment for a free consultation with us by calling now.
Traditional Metal
The brackets and the archwire are the two main parts of standard metal braces. The brackets, which are tiny metal squares attached to each tooth, are what hold the archwire in place. All brackets are connected by the archwire, which is a thin, flexible wire. As your orthodontic treatment continues, your orthodontist will adjust the archwire to provide pressure and better align your teeth.
At Jacob Jarvis Orthodontics, our experienced orthodontist, Dr. Jarvis, specializes in conventional metal braces for maximum comfort and effectiveness.
Clear Ceramic
Clear ceramic braces are an option for patients who don't want their orthodontic treatment to be as visible. These employ the same fundamental technology as conventional metal braces but conceal orthodontic treatment much better since the translucent ceramic brackets and wires blend in with your teeth. Similar to standard metal braces, this solution requires routine adjustments, but the additional cost is due to the more expensive materials used. However, they are still a great alternative for straightening your teeth because they are budget-friendly, discreet, and efficient.
Damon Self-Ligating Brackets
If you've ever seen an orthodontist, you may have wondered how self-ligating braces differ from the more common type of braces. Metal wires and elastics are used in conventional braces to reposition the teeth. In comparison, Damon self-ligating brackets use a different type of technology to accomplish the same goal.
While both types of braces, conventional and self-ligating, use metal wires and brackets to shift teeth into position, the way in which these components interact is different. The essential feature of self-ligating braces is that the brackets stay in place without the use of elastic bands. These brackets are more advanced than other types because of their integrated clip system, which allows for a faster and simpler application onto the teeth. Because they don't irritate the skin like conventional elastics, they're also more pleasant for patients to wear. Damon self-ligating brackets also come in two types: Conventional metal and ceramic.
Conventional Metal
The most popular and economical choice is the conventional metal self-ligating braces. Since they are effective in a shorter amount of time, they are a great choice for patients of any age.
Ceramic
With their low profile and sleek design, clear ceramic self-ligating brackets are a popular option for patients who want to feel more comfortable and confident wearing their appliances at school or at the office. With the combined advantages of fewer visits and less obvious material, patients can feel as though their appliance is hardly there.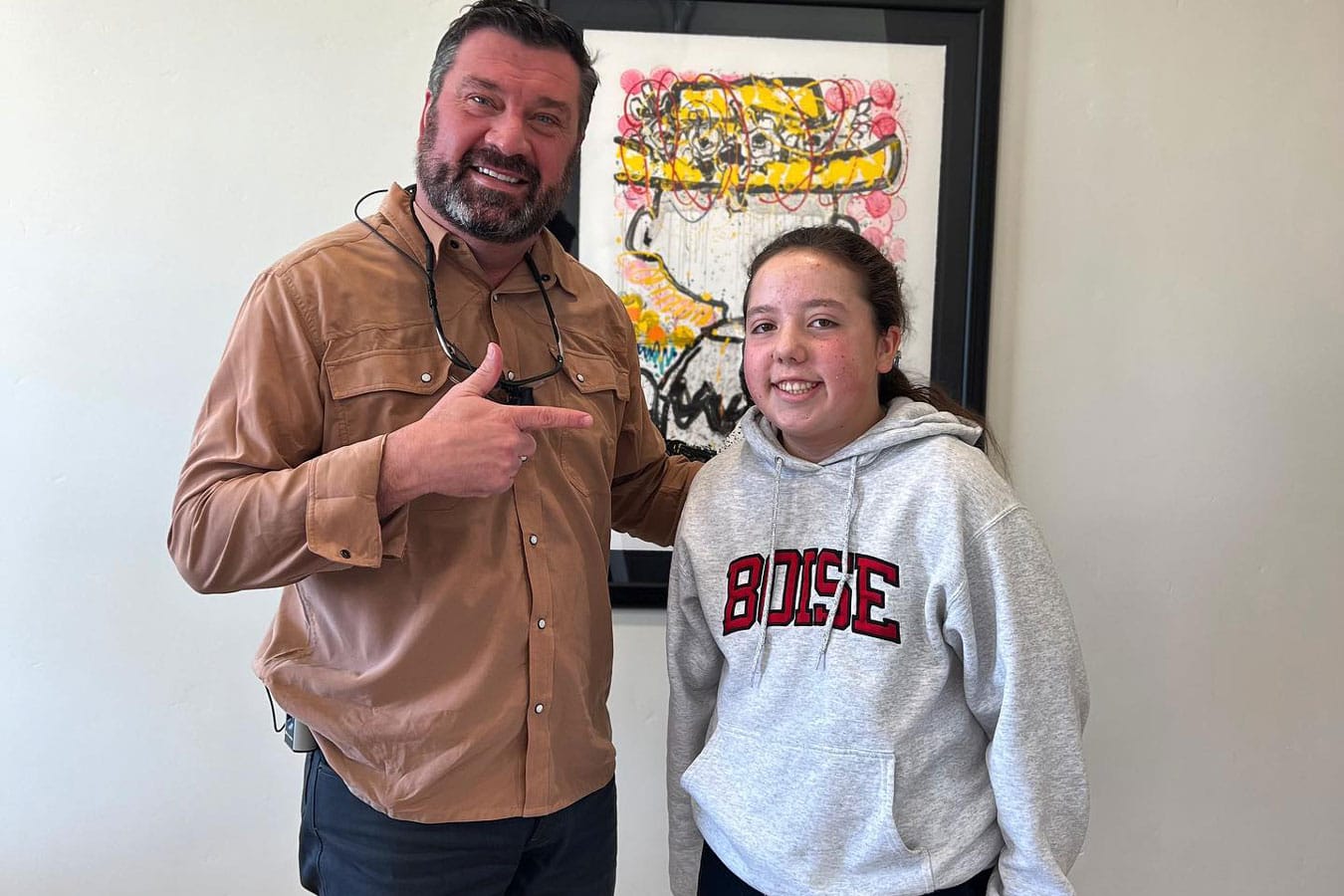 Braces For Kids
Early Orthodontic Treatment With Braces For Kids
Jacob Jarvis Orthodontics recognizes the significance of early orthodontic treatment for children in Boise, ID. Children who receive braces at a young age are more likely to keep their teeth and gums healthy and in good shape throughout their lives. Children's dental health and self-esteem both benefit from early orthodontic treatment with braces. We are certain we can give your child the best orthodontic treatment possible with our comprehensive selection of services.
What Is The Best Age To Get Braces?
Orthodontists work to diagnose and correct bite and jaw alignment issues, whether they are inherited or learned behaviors. Having your child assessed by an orthodontist as early as seven is ideal for accomplishing these goals. However, children with apparent facial abnormalities could benefit from early preventative orthodontic treatment.
When there is a mix of baby and permanent teeth in the mouth, an orthodontist can spot subtle problems with the way the jaw is developing. An orthodontic checkup may help find issues early on and create effective treatment programs, even if the untrained eye misses them.
Moreover, correcting these issues at a young age is more beneficial than attempting to correct them as an adult. Children are still growing and developing, so their teeth and jaws are more receptive to treatment. Growth slows down as we age, making our jaw and teeth less malleable and, therefore, making treatment more complex. An orthodontic problem that may only require braces as a child could require surgery as an adult.
That being said, braces are incredibly important not only to your appearance and oral health but to your overall health. If you are in need of braces at any age, Jacob Jarvis Orthodontics will work with you to discover a treatment plan that works for you.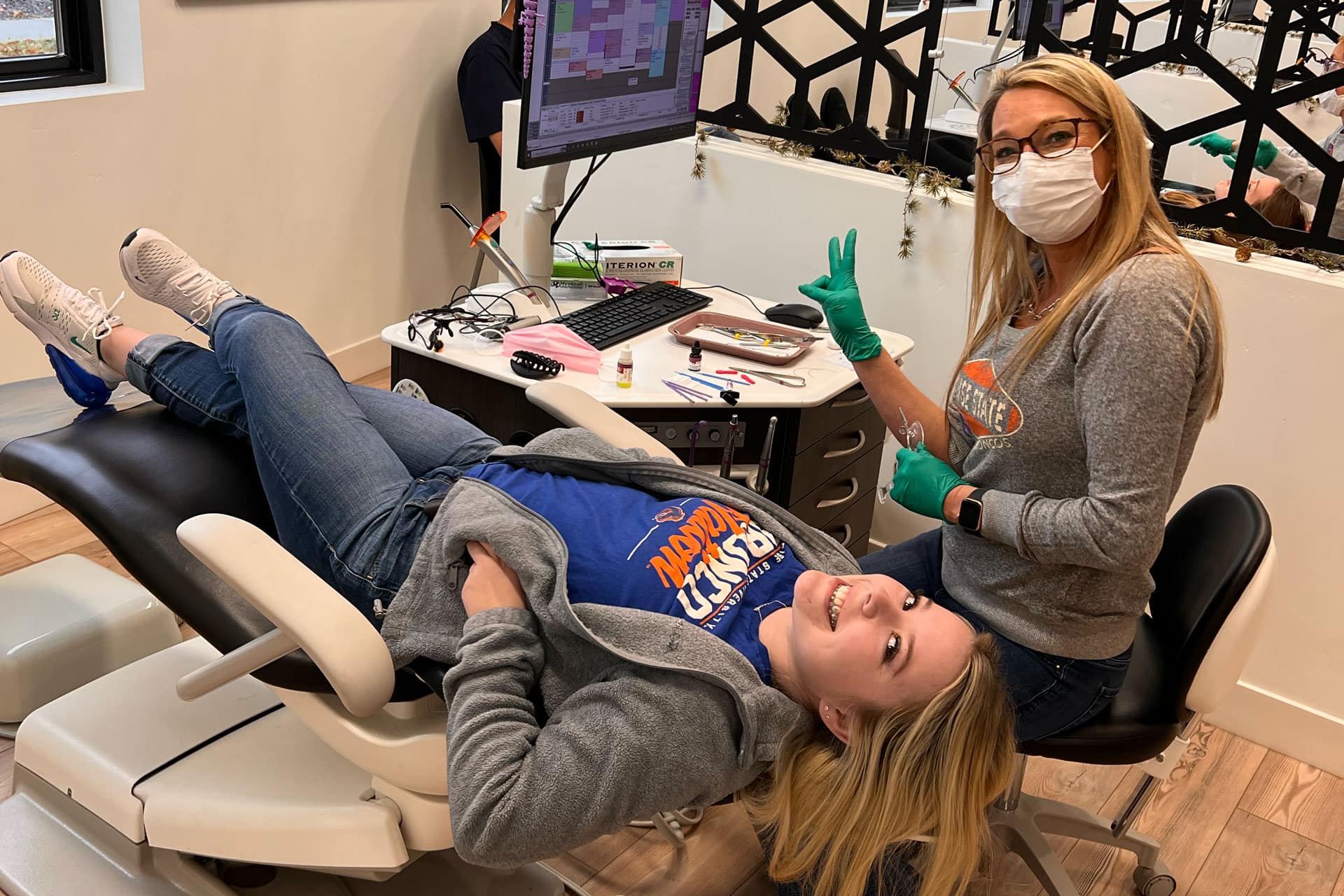 Braces For Teens
Give Your Teen A Winning Smile!
Does your teen avoid smiling because they don't like their teeth? An adolescent's smile can actually have a profound effect on their self-esteem and even impact their social skills. Further, according to a research study out of Webster University, a confident smile can be seen as even more attractive than traditional "good looks".
We know that our teens are super conscious of their image. Just look at the number of selfies they take, and how much time they spend liking, commenting, and sharing their friends' photos on Snapchat, Facebook, and Instagram. That's why when teens come to Jacob Jarvis Orthodontics for orthodontic treatment, we want to be sure we have options for them, to ensure their confidence stays high while their smile improves.
Through orthodontic treatment (either with traditional braces or Invisalign) our orthodontists can correct genetic issues from crowding and spaced teeth to protruding upper teeth. Or, we can address improper bites due to thumb-sucking as a child, periodontal disease, poor dental hygiene, early or late loss of primary teeth, or trauma to the teeth from a sporting injury, for example.
The other good news is that adolescence is the optimal time to rectify orthodontic problems since teens haven't yet finished growing. Early correction of orthodontic problems frequently takes less time in treatment and is less costly when compared to correction of dental problems that have been allowed to progress into adulthood.
Improving and encouraging your teens' self-esteem is one of our core values at Jacob Jarvis Orthodontics. Our practice utilizes the latest technology, offering a variety of safe and gentle treatment options to give your teen the customized, individual care you deserve. 
Jacob Jarvis Orthodontics exists to create an experience where passion and purpose come together. Our team put their patients first. Each treatment is customized for your individual needs and goals, ensuring your results are truly something to smile about!
A beautiful smile is an investment in your self-esteem and confidence. Please feel free to contact our office to request a free consultation for you or your child. We look forward to meeting you and welcoming you into the Jacob Jarvis Orthodontics family!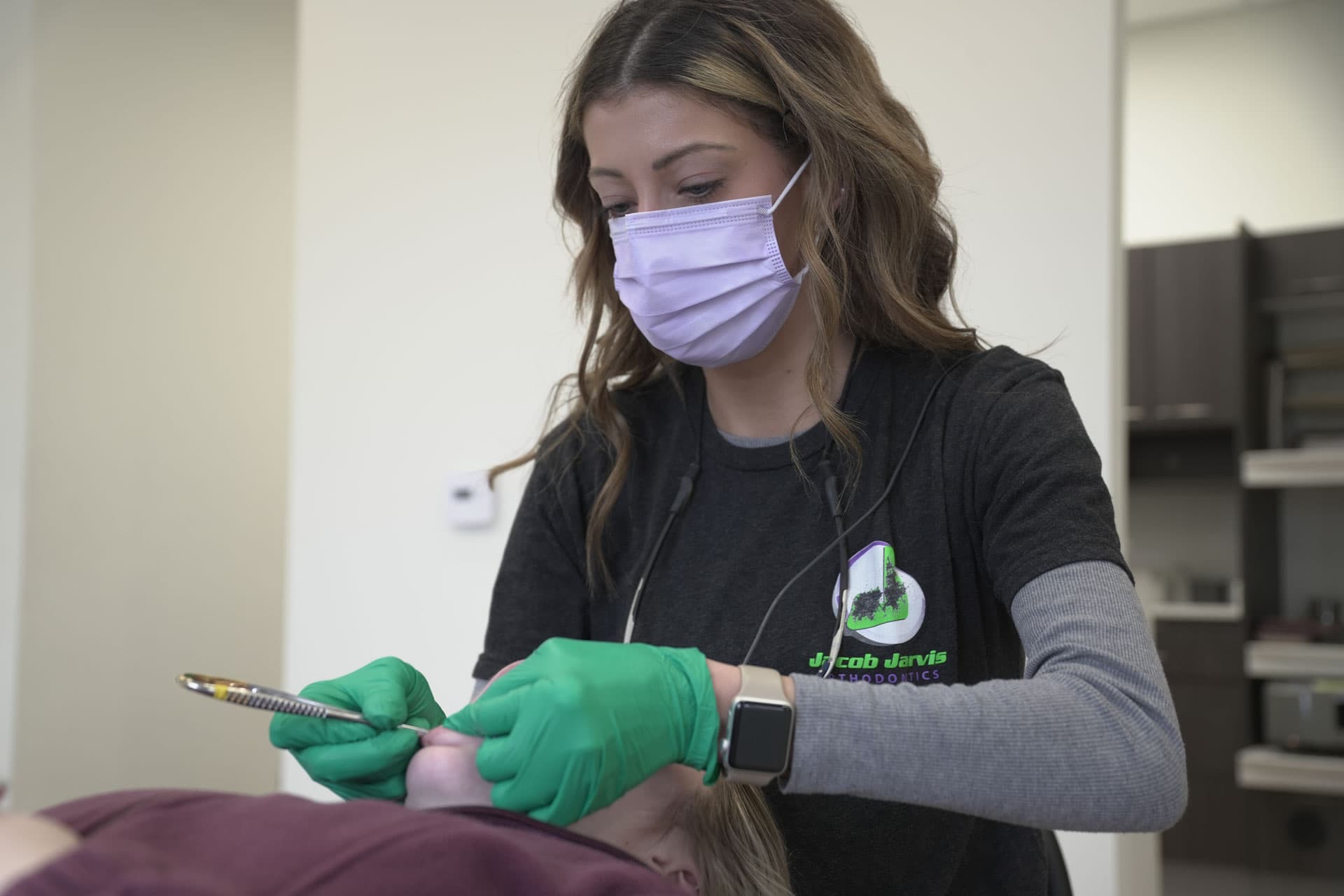 Braces For Adults
Is It Worth Getting Braces as an Adult?
If you're an adult who has never worn braces, the thought of getting them now could feel weird. However, orthodontic treatment is quite effective for adults, and there are several solutions available for individuals who want a more understated approach. Braces can be beneficial at any age, not only for aesthetic reasons but also for overall health.
If you're considering braces, some benefits you can expect from braces for adults in Boise, ID, include:
Improved Health: Treatment for crooked or misaligned teeth can improve dental and overall health by decreasing the likelihood of cavities, gum disease, and other health issues.
Improved Self-Esteem: A restored sense of satisfaction and success may come from just taking better care of your teeth and smile.
More Comfortable: Pain and discomfort caused by misaligned teeth can be alleviated with orthodontic treatment.
Better Functioning: A straighter smile can enhance your quality of life by making it easier and more pleasant to eat and speak.
Quicker Treatment: Improvements in orthodontic care have shortened the time it takes for adults to get the beautiful, healthy smile they've always dreamed of.
3 Things to Know Before Getting Braces
Cost Can Vary
Each type of braces has a different price range. Traditional metal braces range between $3,000 and $7,000, while Damon braces and Ceramic braces may cost a bit more due to their materials.
Treatment Time Can Change
In general, treatment time for braces spans between 14 and 33 months. Our orthodontists will do their best to provide you with an estimate of how long you can expect your braces treatment to last. However, as an adult, it is more difficult to correct some issues and may require more time as the bone is no longer developing.
Various Options Available
Our office offers various braces options for adults, including:
Traditional metal
Clear ceramic
Damon Self-Ligating Braces (Traditional metal and clear)
If you're interested in getting braces for adults, there are plenty of options available so you can find the braces that fit your lifestyle, preferences, needs, and budget.
Braces FAQ
How Do Braces Move Your Teeth?
Braces are able to move your teeth by manipulating what is known as the periodontal ligament (PDL). Each tooth is surrounded by the PDL. Braces exert a small amount of pressure onto the teeth in one direction. This causes one side of the PDL to stretch while the other side is shortened. This then causes the bone to grow and reabsorb in response to the shortening and lengthening of the PDL. In short, your teeth are moved due to the process of bone loss and creation.
What Questions Should I Ask My Orthodontist Before Getting Braces?
Whenever you hear about braces, you often hear only the list of things you can't eat, but what about what you can eat? We think you'll be pleased to find that the list of what you can eat is much longer. Generally, anything that's soft, smooth, or chewy in texture is the best food to eat with braces. For example, soft foods include soft-cooked vegetables, scrambled eggs, cheese, and fruits without seeds (seeds can get stuck in the braces). Some examples of smooth foods would be ice cream, yogurt, mashed potatoes, oatmeal, and soup. There are also foods you can eat later but may be tough to eat in the first few days after having braces put on, such as chewy meats or breads, citrus, and spicy foods.
What Questions Should I Ask My Orthodontist Before Getting Braces?
After you have scheduled your appointment for a free consultation with our office, you should prepare some questions to ask our orthodontists. Information you will want to know before getting braces includes:
How long will your treatment take? What if it takes longer?
How much will it cost?
Will there be any pain?
Can you still whiten your teeth?
Can you play sports?
What are your payment options?
What if a bracket breaks?
If wearing ceramic braces, can they stain?
What if you have an emergency?
Some of these will be covered, but be sure to ask if they are not. Drs. Jarvis and Kunkle will be happy to provide you with the answers you're looking for.
What Can I Expect on My First Day With Braces?
The process of having your braces placed should be painless, as Drs. Jarvis and Kunkle will be sure to keep you comfortable throughout the process. After the first couple of hours, the new adjustment may start to cause some discomfort. While your teeth adjust to the pressure of the braces, you will likely have to stick to smooth, soft foods like smoothies, soup, yogurt, and cheese. However, we do recommend that you try to stay away from hard, crunchy, or sticky foods, as they can get stuck in your braces or break the brackets.